Fishers of Men and Fish! MEN, have you ever wanted to learn to fish? You time has come. Whether you are experienced or just want to learn fly fishing, casting, or bait fishing you will learn the art of fishing and how it can be used to draw men to Christ. Please contact Gary Sandoval at (505) 771-3332 or Rock Smith 505-301-4494 for more information.
Designed to provide basic assistance to members of the Calvary Rio Rancho body of believers who may not be capable or able to fulfill certain needs. The services available through this ministry are minor home repairs and maintenance, provision of meals, cleaning services or transportation.
Need some help or to inquire of getting assistance from or volunteering for the Helps Ministry contact Roy Weaver for more information 505-313-1673
Each Thursday Morning 5:30am – 6:30am – Church Cafe
Men come join us at the Church Cafe for a time of study in the Word of God. We will listen in on the Proverbs of Solomon, the son of David, former king of Israel and the wisest man who ever lived.
Men's Jail Ministry @ MDC
I was a stranger and you did not take Me in, naked and you did not clothe Me, sick and in prison and you did not visit Me. Matthew 25:43
Tuesdays at METROPOLITAN DETENTION CENTER 5pm – 7:30pm
For more information contact Andy Rodriguez at 505-504-5979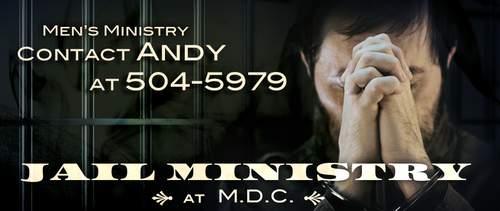 It has been said that in America, men's relationships are a mile wide and an inch deep. What do you think? Don't you want to get to know some guys here at Calvary Rio Rancho deeper than that? Then 2017 is your year. What's the agenda? There isn't one. We'll talk about who we are and how we got here. Relationship. See you at the café. Let's dig deep.
We'll meet in the café on the 3rd Saturday of each month at 7:00 a.m.
Next one is July 20th. AS AMBASSADORS FOR GOD, WE ARE IN CONTINUAL TRAINING. OUR JULY MEN'S FELLOWSHIP SPEAKER, MARK WINGERT, WILL SHARE HIS CHOSEN TOPIC, WHICH HE HAS ENTITLED "TRAINING AN AMBASSADOR FOR GOD". BORN IN EL PASO, GREW UP IN MISSOURI AND ALBUQUERQUE, SHARED HIS CHILDHOOD WITH ONE BROTHER, GREW UP IN THE RETAIL BUSINESS (HARDWARE AND AUTO PARTS), HAS WORKED IN VARIOUS RETAIL SETTINGS, IS A HISTORICAL INTERPRETER AT EL RANCHO DE LAS GOLONDRINAS, ADD SELLS HOMES WITH COLDWELL BANKER LEGACY. HE CAN BE SEEN MOST SUNDAY MORNINGS (EAST DOOR) OF CALVARY RIO RANCHO GREETING US AS WE ARRIVE.